Meet the Staff of Windsor Veterinary Clinic
Erika Matthies Praul, D.V.M., Veterinarian and owner

Dr. Matthies graduated from Cornell Veterinary School in 1997. She moved to Maine and started working at the Windsor Veterinary Clinic in June 1999. She and her husband purchased the clinic in September 2003. Together they also have 3 adult children, 4 cats, two small dogs, and 2 lizards. When she isn't working or caring for her family, she enjoys outdoor activities and relaxing with friends. While at work, Dr. Matthies enjoys talking with and educating her clients and spending time with her patients. Her special interests include geriatrics, feline medicine, wound management, and providing tailored lifelong wellness plans for all new puppies and kittens. She provides house calls on an as needed basis, for those times when coming into the office is difficult or not possible. One of her strong beliefs is that all animals deserve to be treated humanely and with compassion and dignity at all times.
---
Darryl Praul, D.V.M. Veterinarian and owner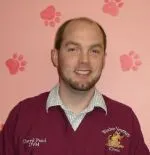 Dr. Praul graduated from Cornell Veterinary School in 1996 and is the co-owner of Windsor Veterinary Clinic, moving to Maine with his wife in 1999. He went to Penn State for his undergraduate study and participated in Semester at Sea, a study abroad experience where he got to travel around the world. He very much enjoys spending time and traveling with his wife and 3 children. Dr. Praul also feels strongly about businesses being an asset to their community, supporting various youth sporting and academic programs, churches, and food banks, among others. Professionally, his interests include soft tissue surgery and challenging medical cases.
---
Cody Minor, D.V.M.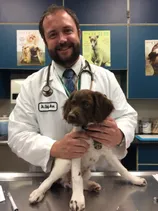 Dr. Cody Minor is a veteran of the US Coast Guard and 2015 DVM graduate from Colorado State University. He and his wife, Dr. Dana Hill, are fulfilling their lifelong dream of practicing veterinary medicine in Maine to serve our wonderful communities, be near family, and enjoy nature. Dr. Minor is experienced in zoo/wildlife medicine, international clinical research, and companion animal internal medicine and surgery. When he is not treating beloved pets at the clinic, he and Dana can be found hanging out with their three dogs, five cats, and four ducks and fishing, hiking, paddling, skiing, or surfing around the region.
---

Dale Turner, Hospital Manager, Licensed Veterinary Technician
I have been with the Windsor Veterinary Clinic since 1998. My love for animals has always been a part of my life for as long as I can remember. I attended the University of Maine at Orono and earned a degree in Animal Veterinary Science. I have a few animals of my own, 3 cats and 4 dogs.


---
Betty Pierce, Veterinary Assistant
Betty started with the Windsor Veterinary Clinic in 1989 as a receptionist until 1999 when she became an animal care provider. She runs pre-op blood work, assists in animals' recovery from anesthesia, develops X-rays, helps with pet restraint, and is in charge of surgery packs. She is the friendly voice who calls pet owners to check on post-surgery animals. Betty has a black lab named Marge and horses at home. She travels to many county fairs each summer with her husband Bub and son Colt to watch them compete in draft horse pulling contests. Colt is an award-winning taxidermist and Betty enjoys helping him with Bear Rugs. Betty also enjoys quilting, knitting, scrapbooking.
---
Erin Bessey, CPDT-KA, Receptionist
Erin joined the Windsor Veterinary Clinic team in July of 2008. She graduated with a bachelor's degree in Zoology from the University of Maine in 2007. Erin loves to be surrounded by animals. She has raised dogs for Guiding Eyes for the Blind as well as worked with them for 6 weeks developing a puppy temperament program. Erin has two labs, which were born with cleft palates and required round the clock feeding for their first weeks of life. They are now 5 and 10 years old, Tripp and Henry.
When she's not working at the Windsor Vet, Erin can be found working in her own business, Bessey's Positive Paws, training dogs. Erin, her husband and their two daughters, enjoy spending their time outdoors, hiking, camping, skiing and adventuring.
---
Amanda Brooks, Receptionist
Amanda joined the Windsor Veterinary crew in 2007 after graduating from the University of Maine in Orono. She received a bachelor's degree in Marine Biology and also holds an associate's degree in Biotechnology from Kennebec Valley Community College. Amanda is the proud owner of two lovable felines. She enjoys camping, kayaking, hiking, sketching/painting, gardening, and crocheting.
---
Laurie Thomas, Receptionist
Laurie rejoined the Windsor reception team in a part-time capacity in October 2019 after retiring from the State of Maine. She enjoys greeting and assisting our clients and their wonderful pets. In her spare time, Laurie enjoys spending time with her family and friends, horseback riding, hiking, camping and working around her small farm. She has a beagle, Gypsy; two cats, Mr. Magoo and Elmer Fudd; a quarter horse, Jasper; a donkey, Harvey and a few laying hens.
---

Heidi Phanor, Veterinary Technician
Heidi joined the Windsor Veterinary Clinic team in June of 2014 as a Veterinary Technician. She grew up in Vassalboro, ME on her family's large horse farm and business. She attended the University of Maine in Orono and earned a Bachelor of Science degree majoring in Animal and Veterinary Science with a concentration in Pre-Vet medicine. While earning her degree Heidi was able to take part in the Kentucky Equine Management Internship in Lexington, KY for the breeding and foaling season. During her time there she had the pleasure of working with numerous world class Thoroughbreds and attending the iconic Churchill Downs to attend the Kentucky Derby. She has always had a love for animals of all kinds. Heidi lives with her husband and their son, they also have three dogs, a cat and a horse. In her free time, you will find Heidi spending time with family, their animals, going on adventure walks, and traveling to NYC to visit family.
---
Mikayla Clark, Veterinary Technician
Mikayla joined the Windsor Veterinary Clinic team in 2021 as a Veterinary Technician. She grew up in Whitefield, Maine but recently just moved back home after living in the Midwest for the last 4 years. She attended Unity College where she graduated in 2017 with a Bachelor's degree in Wildlife Management and a minor in Sustainable Forestry. Mikayla has held a number of jobs since graduating college that are centralized around animal care. She has had the opportunity to bottle feed white-tailed deer fawns out in Michigan, trap black bear for state studies in Maine and perform pharmaceutical research on animals such as pigs, rats and mice in Ohio. When she is not working, Mikayla can be found mostly outdoors hunting, fishing, running or hiking. At the end of the day, Mikayla is always excited to return home to her own animals; her Boxer Bully named Brady Boy and her hedgehog named Harold.
---
Tara Frost, Receptionist/Veterinary Assistant
Tara joined the WVC team in 2020. She grew up in Gardiner, Maine and attended the University of Maine Orono and Augusta, majoring in veterinary technology. She lives with her husband and 2 children, her dogs Koopa and Dakota, 2 cats and several other animals. In her free time, she enjoys spending time with her family and friends, drawing/painting, making crafts, going to the movies, camping, fishing and spending time outdoors.
---
Sharon Faxon, Receptionist
Sharon has lived with cats and dogs all her life. She spent six years working for a veterinarian in Georgia and joined the Windsor Veterinary team in 2019. She currently has two dogs and two cats, chickens and is a Maine certified honeybee beekeeper. She enjoys reading, gardening, quilting, knitting, and the Maine outdoors.
---
Maggie Digan, Veterinary Technician
I joined the Windsor Veterinary team in early 2023 after moving up here from Connecticut. I have always had a passion for animals. I have my Associates Degree in General Studies of Science and have been a Veterinary Technician for 6 years. In my spare time I enjoy hiking, fishing, cooking, gardening and I will occasionally snowboard or ride my dirt bike. I have a 10 year old dog named Riley who also enjoys swimming and fishing and can usually be found right by my side.
---
Mallory Chandler, Veterinary Technician
I live in Benton with my fiancé on our farm with 3 dogs, 6 cats, 2 horses, and chickens and ducks. I compete with international barrel racing association with my 5 year old quarter horse named Reymond. I have been fostering kittens for over 10 years, I started working in vet med as a technician 7 plus years ago and always had a lifelong mission for saving and helping all animals.
---
Melanie Martinez, Veterinary Technician
Joined the team in September of 2022. Born and raised in Augusta but moved to California for 5 years after college. I went to the University of Vermont and received my Bachelor of Science Degree in Animal Science with a concentration in Pre-Veterinary medicine. I have worked as a veterinary technician for almost 20 years at both humane societies and private clinics. I am married with two girls and have a plethora of animals at home. In my free time I enjoy spending time with my family, traveling and relaxing.